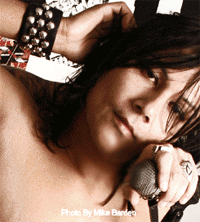 Do you know what I love about The Napoleon Blownaparts' frontman, Ajax Garcia? He knows how to take action when it comes to artist PR. He doesn't simply follow the crowds… he leads them.
Indie bands across the globe make an incredibly common mistake when promoting their music – they do what everyone else does.
Is it going to hurt your band to have a Myspace profile? No. Is it going to hurt your album if you have it on iTunes? Of course not. Is it a good idea to have your own website? Damn straight. But what else are you doing as a band or indie musician to set yourself apart? Chances are… not much.
Not true with Garcia. It doesn't matter if you know him through his band's success in the 90s (they're still going strong, with a new album due out soon by the way), or you know him through his art (he's the rock art genius behind the KISS icons and much more). It doesn't matter if you know him from the old Guns 'N Roses / guitarist drama or his run-in with a California radio DJ. The point is that you know him (or at least you will).
Garcia doesn't sit back and wait for attention to come his way… he demands it with just about everything he does (even if not always intentional or portraying him in the most positive light). He goes above and beyond what the average independent artist is doing right now to promote their music.
Two examples: He recently pursued an interview with metal insider Bob Chiappardi, and pitched it to members of the music media (getting picked up on multiple reputable sites in the niche), and he's writing a book. Are you writing a book? Yeah… didn't think so.
So who cares that a musician is writing anyway? Anyone with an ounce of business sense… that's who. It's common business / marketing / PR knowledge that publishing (whether that's a book, articles, or even e-books and quality blogs these days) can be a huge reputation booster and great for exposure.
Enough already. I was fortunate to get to work with Garcia on his Chiappardi interview (touching it up and getting it ready for pitching), as well as a few other projects recently and in the near future. I convinced him to give you a few minutes of his time, answering a couple of questions about his proactive approach to artist PR. Read it. Learn it. Live it.
—
Jenn: I had a chance to work with you a little while back on an interview you did with music industry veteran Bob Chiappardi. What made you decide to conduct that interview and pitch it to publications?
Ajax: I think it's important to get right to the source, and Bob Chiappardi is certainly the source. You have to always pitch your product to the right publications to ensure that you reach as many eyes as possible in order to properly get the word out.
Jenn: From a promotional standpoint, was it worthwhile for you?
Ajax: Well I would be a liar if I said that my fly-on-the-wall feature sheds no light on me, because I was the interviewer… so yeah my name is tagged along. In all honesty though, my passion is really delving into the heart of the machine and coming out with some great content for my readers so that they can sharpen the tools of their trade. I mean I am talking with really important people here and they are divulging some really powerful information. (NOTE: Garcia's interview was picked up on niche sites like Blistering.com and MetalSludge.com.)
Jenn: Would you suggest that other independent artists take a similar initiative… digging up news or creating it around them as opposed to waiting for things to simply "happen?"
Ajax: Independent or not, I am an employee of my fans, and I have to clock in to work every day or they get pissed off. I read email all the time from fans asking what the damn deal is with our new record, Goin' Back To Zero, and why has it taken so long to make. I totally understand where their frustrations are coming from. I mean I've been waiting for a new AC/DC record for over five years now. (Laughs.) All I can suggest is that if you join a band or are an artist and plan on doing this for a living you had better work your ass off for your fans and yourself.
Jenn: What would you say is the biggest publicity stunt you've ever pulled?
Ajax: Doing this interview with you. (Laughs.) I don't do publicity stunts, and to accept this question is actually dangerous on my part. But I'll approach it, dukes up, and answer it anyway, because I don't evade questions. The word "stunt" implies that I would personally manufacture behavior for my own gain, and that is just not my style. In the past I have used poor judgment and found my self a part of some nasty situations, and some of those questionable events became legal issues for me so I am more careful now. But probably one of the funniest media whirlwinds that I have ever been thrown into was when a certain member of the media, whom I won't name, totally edited an interview with me turning it into a firestorm of bullsh*t. Back in like 2003 I think I was asked about my association with Guns N' Roses or something, and there was really no association to speak of. I just had commented in an earlier radio interview that it would be cool to play guitar in Guns N' Roses. I will go on record to say that it is a fact. I really did speak with Tommy Stinsen, their bassist, on the phone. Axl Rose I guess made a public statement denying that Tommy and I ever spoke on the phone… yada yada yada. This was funny sh*t to me. I mean come on… someone flat out lied to someone here, because how many Ajax's do you know? So this was picked up by almost every metal and hard rock music publication in the world.
Jenn: Moving forward with your music (and artistic) career, what style of promotion do you see yourself favoring (if you had to choose): the traditonal entertainment publicity stunt model we hear a lot about, or taking a proactive (and positive) position on aggressively seeking media attention (seeking out interviews, publishing to build your own authority status, etc. like you started doing with the Chiappardi interview)?
Ajax: My content. My music and art come first and everything else is next. I am in this business so that I don't go hungry, and as you know by now I come from the streets and grew up a hustla'. Why I am not a rapper is beyond me. (Laughs.) But that's my upbringing… the streets! So every day I would dream about becoming a rock star so that I could escape the bario and make my mother proud of me. I have always remained loyal to the process of mastering my craft, and substance is first in my book. A lot of musicians are f*cking liars when they say they don't participate in publicity. If that is the case then stay at home and jam in your bedrooms, but please don't insult my intelligence by saying that you don't. You made fliers for the concert didn't you?
Jenn: Has the world already seen the best of Ajax Garcia and The Blownaparts, or do you still have some "indie magic" up those sleeves? What can we expect out of you, and the band, in the future?
Ajax: I am all magic baby. Goin' Back To Zero, our new record, will drop soon. The single "Hell Yeah!" was added to a special "Triple Crown Formula Drift" mini disc sampler, and I always have new poster designs that fans can color when they buy their Eerie Pop Blisterpacks. Anyone can log on to www.myspace.com/blownaparts and as always www.blownaparts.com for current events and updates regarding any recent or up coming publicity stunts. (Laughs.)
There you have it folks… stay true to your art, and make a name for yourself the good old fashioned way (with hard work). And if you inadvertently find yourself in the middle of an itty bitty media storm you weren't anticipating, consider it a lesson learned.
---