Who Controls Your Online Music Sales? Thanks to DirectStereo.com YOU DO!
March 12, 2009
Sure, you probably sell your music digitially on iTunes or Amazon (or both). But do either really give you enough control? Wouldn't you like a little more flexibility in setting your MP3 prices? Wouldn't like a bigger cut of the sale? How about widgets that let you easily sell your music on any website, blog, or service were you can embed the code?
Interested?
If so, you may want to check out a new service from DirectStereo.com, offering independent musicians greater control and greater payouts than other digital music sales platforms.
Here's the gist:
Registration is free.
You obviously keep full ownership of your music.
You get to keep up to 70% of the revenue for each sale.
You can setup a blog or get an artist page with a unique URL.
You can earn credits by rating tracks from other artists.
People can comment on tracks in the system.
You can access simple widgets to copy and paste your music downloads for sale on your band site, blog, myspace profile, and more (on a side note, they're working on a more advanced widget).
Everything can be operated from a simple control panel where all options are available on every page (shown below).
So what does DirectStereo.com offer that other digital music distribution services don't? More flexibility and higher payouts (and since you can add a widget just about anywhere your fans hang out online, its reach is as broad as your own).
For example, you're not forced to charge $.99 per track. Let's say you have older albums and you'd like to charge less. You can. Or what if you want to charge more than usual for an album pre-launch before it officially drops? You can do that too. And you can change any prices you set each month. Here are the available pricing options for single tracks and albums:
Single Tracks:
$.25
$.50
$.75
$1.00
$1.25
Albums (min. 4 tracks):
$.99
$1.49
$1.99
$2.49
$2.99
$3.99
$4.99
$5.99
$6.99
$7.99
$8.99
$9.99
When you're ready to promote your tracks, here's an example of the widget you can add to your websites, blogs, and profiles:
Looking to get your music on iTunes, but you don't have the required distributor and UPC code? Then keep and eye on DirectStereo.com, because in the future they'll also be helping musicians get their tracks on iTunes and other online stores acting in a distributor capacity.  Also still to come:
The advanced widget
Fully customizable personal / artist pages with the option to import your current Myspace layout (for branding consistency)
A mobile version of the site, featuring iPhone and Android apps
The ability for users to keep their download list online to create their own playlists and access their purchased tunes from any computer with Internet access
So is there any downside? Perhaps a small one for some artists.
When you upload individual tracks to sell, you're required to offer them for free for two weeks before setting your prices (and with albums you have to make two tracks from the album available). Now if you're already doing this temporarily through your Myspace page or official site, it shouldn't be a big deal (and personally I'm a big believer in artists leveraging occasional free music against better monetization options – a topic for another day). But if it really bothers you, and that policy doesn't change in the future, you can always upload them and simply not promote them there until the two weeks have passed.
Other than that, if anyone takes them for a test drive, I hope you'll stop by here and leave a comment on this post to share your experience with other artists.
Social Media for Musicians
July 8, 2008
Specializing in online PR, you may think I'd tell you that you have to be everywhere and using everything when it comes to using social media to promote your music. You'd be wrong if you thought that.
Social Media Tools for Musicians
Before I get into why you shouldn't worry about trying to use every social media tool you can get your hands on, let's start by giving you some examples of social media tools for musicians:
General Social Networks – You would be hard-pressed to say any general social network is better for independent musicians than Myspace. Still, others do exist, and may be worth checking out – anything from Facebook to even LinkedIn (for those looking to connect with industry professionals, or for those working behind-the-scenes in indie music).
Music Networks – In addition to general social networks, music networks exist specializing entirely in building the band-fan relationship. Examples would be Purevolume or Unsigned.com. Read more
Do or Die: The Band-Fan Relationship
July 7, 2008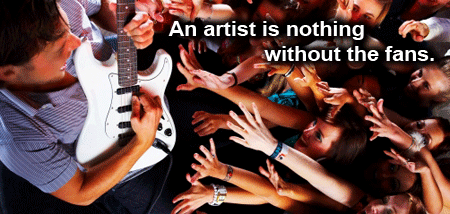 Recently on my book marketing blog, I talked about why author publicity is more important than book publicity. The same is true in music promotion – the image of the band or artist far outweighs the publicity of any specific album, song, or product, and it relies on the always-important band-fan relationship. Read more
Band Newsletters, Blogs, or Both?
June 24, 2008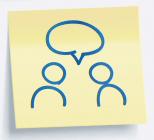 Two common music marketing tools for bands and other independent artists are blogs and newsletters. Given that their purpose is to do essentially the same thing – keep fans up-to-date on your goings on, do you really need to use both?
Unfortunately there's no simple yes-no answer here. While on the surface, they do the same thing, there's more to it. Which you use (or both) really comes down to the artist's commitment. Here's why:
Blogs are about much more than simply posting about your recording updates or about your latest show. Blogs are about engaging your audience and building relationships.
Blogs generally need to be updated often to maintain readership – you should be posting more than once a week or once per month – schedules that may be perfectly fine for newsletters (which are one-sided communication where you talk to your fans instead of talking with them). Read more
Artist Resource: Unsigned.com
June 23, 2008
Resource: www.Unsigned.com
Full Disclosure: The company running Unsigned.com is a past client of mine.
The Web gives artists and bands seemingly unlimited resources for promoting your music directly to fans. Unsigned.com is one of those resources you may want to check out.
One of the best things? Unlike sites like Myspace where the major label artists encroach on your territory, Unsigned.com is exclusively for unsigned and indie label artists. Read more
"Requested Materials" – Really?
June 20, 2008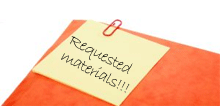 I receive a lot of press kits from bands wanting to be featured here (and I'm just talking about print kits – let's leave online submissions out of this). I hate to think of how many larger sites and print pubs are getting. It's hard enough sorting through it all, but what really makes me insane is when I get a press kit with "REQUESTED MATERIALS" stamped, written, or whatever on the envelope.
I almost always think the same thing – "Yeah f*cking right – I didn't request this sh*t!" Generally, it either goes into the trash without being opened, or it goes to the bottom of my review pile (and to put it simply, I've got at least a year's worth of artists I already want to interview before I'll even likely look at them again). Read more
How to Write a Press Release for Your Band
January 7, 2008
At some point during your career as an indie band, it's likely that you'll need to learn how to write a press release. A press release can be used to improve your media relations, by sending newsworthy information about your music to newspapers, TV, and radio stations. The idea is to only send a press release when something is truly newsworthy, in the hopes that media outlets will pick up the story, providing you with free publicity. Here are a few things that might be considered newsworthy as an indie artist:
1. You're releasing a new CD.
2. You're about to go on tour.
3. You're opening for a huge act.
4. You're putting on, or performing in, a benefit show for a charity.
5. You're making a donation to charity as a band (ex. donating a portion of CD sales)
Now learn how to write a press release by following the outline here:

Contact:
Your name
Your address
Your phone
Your email
FOR IMMEDIATE RELEASE
Put an Informative Title for Your Release Centered Here in Bold (Not CAPS)
Include a More Catchy Sub-Title Below (not bolded) if Needed
City, State – Date – Start the first paragraph of your press release here. Don't try to make your press release sound catchy, like an advertisement. It should read more like a story printed in a newspaper, and the first paragraph should answer the questions of Who?, What?, When?, Where?, and Why?
The second paragraph of your press release should provide further detail necessary to the reporter, such as more specific location information, particular cities you'll be visiting while on tour, etc.
The third paragraph, if needed, can include more information, especially that pertains less to your music. This might include some background on a charity that you're working with or donating to.
For More information, please visit Your URL, or contact Your Name at Your Phone, or via email at Your email address.
About Your Band
This section of the press release is called a boilerplate. It would be the same on every press release that you send out about your band (until, of course, it needs to be updated). Use the boilerplate to provide a short bio of the band.
Always end a press release with ### centered at the bottom of the page, to let the reporter know that they've reached the end of the press release.
Does Your Band Have an Elevator Speech?
January 7, 2008
Most business owners have what's known as an "elevator speech." Does your band have one? You should! So what's an elevator speech anyway?
Definition: An elevator speech is a very short and concise description of who you are and what you do, which you should be able to convey to a total stranger in the time it takes to ride an elevator.
Don't think of an elevator speech as a sales pitch, saying how great you are. Think of it as being similar to the opening paragraph in your band bio. You should be able to say what your music sounds like (not "well, we're completely unique and don't really fit into a genre"), who your band sounds like, and what set you apart from the thousands of other bands who probably sound a lot like you.
Your elevator speech should last no longer than a minute, but I'd generally recommend having 2 or 3 versions. Write and familiarize yourself with the one-minute version for when you come into contact with someone who has a little more time to listen to you. Then, create a 30-second version for when someone asks about your band, but you're in a more rushed scenario. Finally, create a 10-15 second version that you could spit out if you're just in passing.
Don't just wing it when someone asks about your music. Be prepared. And don't think that you can just write up an elevator speech and memorize it. The key is to be natural and passionate about what you're saying. If you can't get into it, neither will the person you're talking to.

Is Your Band Newsworthy?
January 7, 2008
If you're a musician, chances are you'd jump at the opportunity for some good press. But how do you get it? How can you convince newspapers, radio stations, magazines, or other media outlets to not only feature you, but even so much as mention your name? That's easy: just make yourself newsworthy!
Most media outlets aren't interested in running a general profile of your band or talking about your music. If you're just looking for reviews, read no further. I'm talking to artists who want "real" press, mentions in stories not entirely related to indie music, in major sections of your city's paper for example. For those artists who truly want to go above and beyond, here are a few tips to making yourself newsworthy in the eyes of the media:
Find your cause. Pick one cause, whether it be the environment, homelessness, fighting a disease, etc., and support it as a band. Play shows (or better yet, organize your own) to benefit the cause financially, or to raise awareness. Putting together a running series of benefits is even better yet.
If you live near a major metropolitan area, where often many schools can't afford strong arts programs, contact the school and offer your time to give free music lessons to students who may be interested in whatever instruments you have the ability to teach them.
Get involved with your local community. The key here isn't just to do one thing, but to be regularly involved. Work together at a local soup kitchen, help organize a bus trip available to community members, help to clean up an unkept park. Keep busy as often as possible. (Can you imagine a hardcore screamo band going to visit people in nursing homes with no family just to brighten their holidays a bit? Now that's newsworthy! It's a complete contrast to the preconceptions that people likely already have.)
The real key in making yourself newsworthy is to stop thinking about yourself. The media loves a good heartwarming tale once in a while, and let's face it, people don't exactly expect these things from bands. Be the complete contrast of the "punk kids" who don't have any respect, and you'll be surprised at how people just might start changing their tune towards you. Getting involved with helping others is better for your music, and better for you, 99% of the time over running some stupid publicity stunt. Don't just say that you're different. Actually BE different. Then tell the local media about it!

Designing the "Perfect" Press Kit
January 7, 2008
The "perfect" press kit can get your gigs, radio airplay, media mentions and more! But what makes a "perfect" press kit? Here are the basic dos and don'ts for making your kit the best it can be:
DO make your kit adaptable. The kit you send to the local clubs' booking agents may not be the same kit you should send to a major commercial radio station. Pieces of your kit should be interchangeable, so you can add and remove pieces when you want to.
DO keep the packaging generic. Your name, logo, and contact information are more than enough. Don't include photos that might become outdated too quickly or anything relating to a specific album. This way, you can get better printing prices by printing in bulk, and keep the packaging consistent from one album release to the next, with only the interior items changing.
DO include a cover letter, and make sure it's addressed to the correct person!
DO include your contact info on everything. That includes the packaging, CD case, CD face, and anything inserted into the kit.
DO include a well-written bio. A full bio should be no shorter than a half of a page. Always describe your music first. People don't want to wait until the end of your bio to get a hint about what you sound like.
DO include a photo. An 8″x10″ glossy is best. Some media outlets prefer black & white for printing, so you should keep some available, and always ask before you send your kit.
DO include positive press quotes if you have them. You don't need to include full articles – it's actually usually preferable if you don't. Just pull the best quotes.
DO include a business card! It makes it easy for them to staple it to a rolodex or keep it in their card file.
DO include a list of your equipment, when you're targeting a venue for a gig.
DO include a quality CD of at least 4 tracks. Anything less than that probably isn't worth media attention. Also be sure to highlight the one track that you most want them to listen to. Larger venues and media outlets only have time to listen to one, and if you don't tell them exactly which one to listen to, by marking it on the CD packaging and the CD itself, they'll choose whichever track they want. It might not be the one you want presenting your first impression.
DON'T include a demo CD that's hand-written. It's just unprofessional.
DON'T send out a kit to a generic address. If you don't have a specific contact name, call first and get one!!!
DON'T include ANYTHING that doesn't have your full contact information on it.
DON'T print a photo on regular copy paper. It won't scan well enough to be used by websites, newspaper or magazines.
DON'T make your kit too extravagant. Your kit needs to be professional, so that it doesn't drag your image down. But, it can't make your image on it's own. You need to let your music speak. I've received incredible-looking kits that were entirely original, but whose recordings sounded like crap. Guess how far it'll get you. At most, you'll just pay far too much for postage.
DON'T just shove a CD and a sheet of paper in an envelope and call it a press kit.
DON'T include quotes from fans. The person receiving the kit doesn't know if the "fan" is your girlfriend or your best friend. They're not going to care what an anonymous person has to say. If you don't have quotes or reviews from professionals, don't include any!
DON'T say, in your bio, that you're "unique," or that you're unlike anything out there. You're really not. Every band thinks they are. But in reality you do sound at least a little bit like something else out there. By explaining how your music is like a combination of two genres very different from each other, you'll get their attention. By showing that you pull together the best of several major artists, you'll get their attention. By saying you're completely unique, in their mind you're saying that no one's been interested in your style before, so you're unmarketable.
Your press kit is like your calling card. An unprofessional kit will find it's way to a trash can before you CD is ever even listened to. A professional kit, whether flashy or not, included with a quality demo may just be your ticket to that great gig, interview, or deal!