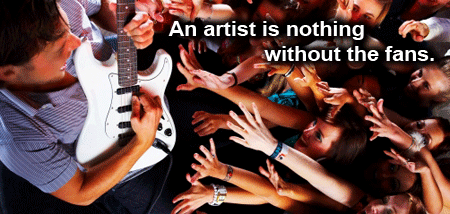 Recently on my book marketing blog, I talked about why author publicity is more important than book publicity. The same is true in music promotion – the image of the band or artist far outweighs the publicity of any specific album, song, or product, and it relies on the always-important band-fan relationship.
Why Build "Relationships" with Fans?
The reason I tell authors to focus on author publicity first is that author publicity / PR affects all sales (current and future), while book PR simply promotes a single title. As a musician, publicity built up around yourself or the band works similarly. The more fans feel a connection with you, the more likely it is that they'll not only buy your current album or track downloads, but futures ones (not to mention merch, show tickets, or anything else you're promoting to them).
But what do I mean by "relationships?" I'm talking about the PR side of things here (my specialty) – not marketing. We're not talking about taking out ads, posting flyers, or sending newsletters. We're talking about direct interaction between the artist and their fans.
The idea is to connect with fans on a personal level – to make them feel like (or realize) that you care as much about them as they do about you and your music. A lot of independent artists do an outstanding job at this. Do you?
How to Build and Maintain the Band-Fan Relationship
You know connecting with fans is important, but how the hell do you do it? Fortunately for indie artists, the Web makes that infinitely easier than it used to be. Here are some traditional and online relationship-building tactics you can use to keep fans loving you and coming back for more:
After shows, talk to your fans. Don't hide – get out there and interact, whether you're out selling merch and CDs or just hanging out.
Get personal – if they ask you to autograph something, do it, and personalize it if they want you to. If they want to take a photo with you, do it. It might not matter a lot to you, but it does matter a lot to some fans. It's something they can hold onto, and it reminds them that you took time out of your day for them (and it's more than just a fleeting connection they'll forget about in an hour – it's something to show off – can you say "word of mouth marketing??").
Start blogging. If you don't have a band blog, why not? If you genuinely don't have the time or inclination to manage one, then don't – running a half-assed blog will do more to damage the band-fan relationship than build it. If you do have an artist blog, make sure fans can leave comments (it's OK to moderate them to stop spam, but probably not a good idea to make them sign up for something to comment – it's obnoxious and bad practice – the idea is to make yourself accessible). It's vital that you not only let people leave comments, but that you respond to them.
Use Myspace. Most indie bands are on Myspace these days. Chances are that your fans are leaving you plenty of comments. Don't let that be a one-way conversation. Comment them back! – And for god's sake, don't only comment on a fan's personal page to promote yourself with an ad or something. If you're not building a real relationship with them too, that's nothing more than spam, and it makes you look desperate.
Twitter. I'm not a huge fan of microblogging. As a matter of fact, I speak out against using Twitter quite actively on my PR blog.  Those feelings are targeting the service in a professional capacity. But if you're on tour, maybe won't be able to update your regular blog as often, etc., then try using a microblogging service like this to keep in touch with fans, even if just to let them know what town you're playing in that night.
Respond to emails. Not everyone can respond to everything, and you don't have to. But if someone says something significant, asks good questions, etc. have the decency to respond to them. After all, they took time out of their day for you, and emails let you know what fans are thinking about you and your music on a more private level.
What other things do you or your band do to keep a two-way conversation going with fans?
---