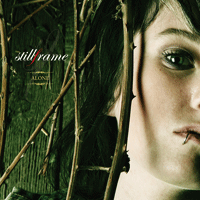 Band Name: Stillframe
Album Title: Alone
Release Date: March 13, 2007
Genre: Indie Rock
Location: Philadelphia, PA
Label: None
Band Members: Brad (vocals, programming), Dan (guitars, vocals), Mark (guitars, synths, vocals), Joe (bass, vocals), Jason (drums, samples)
Website: www.StillframeMusic.com
Review: I've had the opportunity to work with Stillframe in the past, from reviewing past CDs to interviews to catching several live shows. Stillframe is one of my favorite live Philadelphia-area indie bands, putting on an energetic and captivating live show everywhere they play, from large indie music venues to small church basement shows. Their latest release Alone, out March 13th, doesn't disappoint in capturing that live show energy with their lineup of new and previously released tracks.
Some might say Stillframe, together since 2002, is a "love them or hate them" kind of indie band, but I'd call them more of an "acquired taste." Initially, their sound clashes with the norm of larger poppy, emo-centered, or harder indie rock bands, falling somewhere in between. It can be difficult at first to really get a "feel" for the band, and where they fit in the genre spectrum, making them hard to identify with. You'll get over that in a matter of minutes though. Pop a Stillframe CD in (or scope out some preview tracks on their Myspace profile), and you'll find yourself sucked in with anything from their toe-tapping beats to soft lulling vocals to some of the most solid playing you'll hear out of an unsigned indie rock band.
Alone features a diverse track listing, ranging from softer emo-style songs like the title track, to more energetic grunge rock styles. "Never the Hero" is my personal, long-term, previously released favorite, with newer tracks grinding themselves into my subconscious now as I catch myself not being able to help singing along. Stillframe can take their fans from a quiet trance to jumping around with their broad musical abilities, Corgan-esque vocals of Brad, and willingness to break the indie rock mold.
Whether you're an indie music elitist or you simply know what you like, buy this album and support this always impressive indie band.
Notable News: Stillframe was the first unsigned indie band ever featured in a liveDaily and TicketMaster.com featured giveaway.
Album Tracks:
The Taste
Sober Holiday
Pick Up the Pieces
I Don't Care Anymore
Let it All Go
Far Away
Never the Hero
Meant to Be
The High Road
Alone
To find our more about Stillframe, where to buy Alone, or to listen to sample tracks from the band, visit their official website at www.StillframeMusic.com or check out their Myspace profile.
---