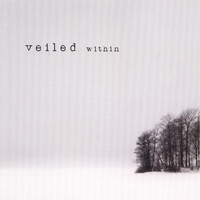 Artist Name: Veiled
Album Title: Within
Release Date: 2007
Genre: Rock
Location: Los Angeles, CA
Label: 844 Records
Band Members: Chris Freeman: bass; Charlie Kim: vocals, keyboards, guitar; Ali Nikou: guitar, keyboards; Greg Panciera: guitar, keyboards, programming; Blair Shotts: drums, percussion, programming, keyboards
Website: www.VeiledMusic.com
This group Veiled certainly veils any easy description of its music. There are moments when surf rock seems to fit it, but then a track like "Killing Fields" comes along with its Middle Eastern feel and totally blows up that whole theory. But no matter what label you slap on contents within Within, it's impossible to get away from the fact that Veiled is a guitar rock band. And a good one, at that.
Not only is this act guitar-centric, but it is also a dead serious one as well. From the outset, opener "Killing Fields" mourns our sad old world with these words: "Greed overcomes/And steals our lives." Hopelessness also prevails in the seemingly optimistically titled "Only Love Remains", where vocalist Charlie Kim suggests: "Time can't heal the wounds/It's just another pill/To cover up the hole." Dang! So much for that familiar cliché! Now what are we going to tell our suffering loved ones? Just give up?
When faced with these sometimes overwhelmingly depressing words, it's oftentimes a good idea to concentrate on the music instead. And Veiled consistently creates dense musical tracks led by sharp guitar lines, which are sometimes augmented by violin, as on "Killing Fields" and "Metrogame."
Near the end of the disc, one titled "Paralyzed" warns: "Heavy clouds drearing overhead." I'm not even sure if "drearing" is a real word, but I know exactly what it means. It, like the rest of this music, paints a picture of a life filled with endlessly rainy days. And after all is said and done, one is left drenched to the bone in Veiled's musical tears.
Track Listing:
1 Yek
2 Killing Fields
3 Metrognome
4 Eye
5 The Messenger
6 Oblivious
7 Only Love Remains
8 Suffocating
9 Through the Valley
10 Restore
11 Relapse
12 Paralyzed
13 Diamond
14 Beast
To check out more about a Veiled affair, please visit www.VeiledMusic.com.
---