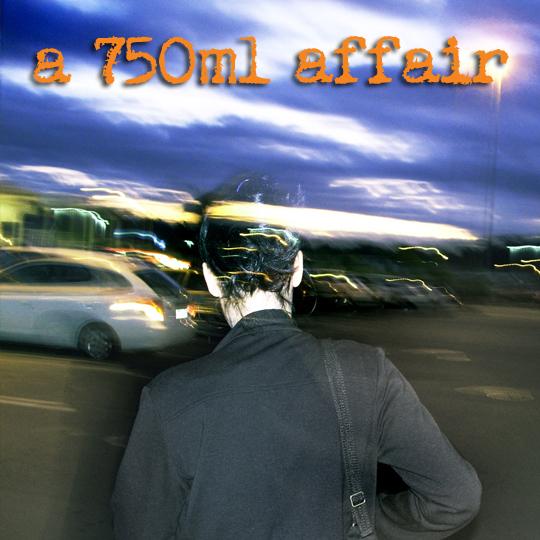 Artist Name: A 750ml Affair
Album Title: A 750ml Affair
Release Date: 2007
Genre: Rock
Location: Spokane, WA
Label: Kettle Black Records
Band Members: Gregory A. Rogers
Website: www.A750mlAffair.com
The very moment Gregory A. Rogers mentions in passing how his "wife is at home awaiting the sunrise," right after lavishing sweet nothings all over Miss Sexy Target of his extramarital affair, the Afghan Whig's lecherous and spooky Greg Dulli comes immediately to mind. Simply put, Rogers is a smooth talking devil, in the sleazy Dulli mode, throughout this oftentimes troubling CD. And while his words may be appalling, he is nevertheless simultaneously quite compelling.
Just as this project's name lays out a wide land expanse, the music Rogers creates covers a lot of stylistic ground. Although much of the initial material on this 12-track release suggests '90s alternative rock, the song "Sail Away" is a 180 degree direction change, which goes the way of jazzy soft rock with a sweet trumpet solo smack dab in the middle of it. Yet despite this song's sometimes breezy sound, Rogers nevertheless expresses romantic regret with a lyric that insinuates he's probably better off alone. Similar jazz touches show up once again during "The Everything", as shuffling drums and George Benson-ish guitar lines color the overall sonic.
Be forewarned: Rogers is a consistently dark fellow, no matter what instrumentation he applies to songs. "Goodbye to the Vampire" may kick off with folk-y guitar, but Rogers then sings: "You know that I just want to die/Have another cigarette and say goodbye." This is followed up with "A Perfect End", which finds Rogers suggesting: "Let the ocean bury me." The Grim Reaper must have hung around expectantly during each and every recording session.
Obviously, Rogers is not a happy man. The inside of the CD jewel box features the following John Calvin quote: "The torture of a bad conscience is the hell of a living soul." Therefore, this release details one man's hell and tortuous conscience.
Track Listing:
Warring Chirp
Fine
King and His Horses
A 750ml Affair
Out of Time
Sail Away
The Everything
The Daily Ten
Last Laugh
American Dream
Goodbye to the Vampire
A Perfect End
To check out more about a 750ml affair, please visit www.A750mlAffair.com.
---