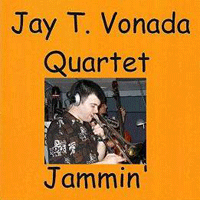 Artist Name: Jay T. Vonada Quartet
Album Title: Jammin'
Release Date: 2008
Genre: Jazz
Location: Pennsylvania
Label: Self-released
Band Members: Jay T. Vonada (trombone), Adam Kurland (keyboards), Jacob Hibel (bass), John Sullivan (drums)
Website: http://www.myspace.com/jjazzbone
Jammin' By Jay T. Vonada Quartet is one classy jazz collection. Vonada wrote and arranged all eight of these compositions, and also lays down mean trombone on it. But most important of all, it's a whole lot of fun.
The songs on this disc cover quite a wide stylistic range. There's the bluesy swing of "Three Tons" where Vonada swaggers loosely, much like a man carrying a little too much weight on his frame, while Jacob Hibel walks the bass. But the Jay T. Vonada Quartet is at its best whenever Adam Kurland switches from acoustic piano to organ, which happens on "Mina" and "Funk 'n Blues", the two songs that close out this CD. During "Mina", Kurland lays down some nasty good notes, not unlike the great Jimmy McGriff. Then with "Funk 'n Blues", this jazz is mixed with the Stax soul of Booker T. & the M.G.'s. Of course, had this foursome expanded to include Steve Cropper-esque electric guitar, it might have been even better. But that's just a wish, not any criticism.
Calling this CD Jammin' is perfectly appropriate because Vonada and his group truly sound like they're having fun building on these melodic ideas. Just get a load of Hibel's bass solo during "Funk 'n Blues"! Who knew a musician could have this much fun with an acoustic bass? It just goes to show you that electric bassists, like Stanley Clarke, don't have all the fun.
Some have called jazz America's classical music. Unfortunately, many have also treated jazz as though it were some stuffy, snooty style, which it was never meant to be. Thankfully, Vonada and friends know it "don't mean a thing if it ain't got that swing," because they swing this baby to the hilt.
Track Listing:
1. A blues
2. Three Tons
3. Anthracite
4. Alea
5. Rose Ann
6. Red Ash
7. Mina
8. Fink 'n blues
To check out more about the Jay T. Vonada Quartet, please visit http://www.myspace.com/jjazzbone
---