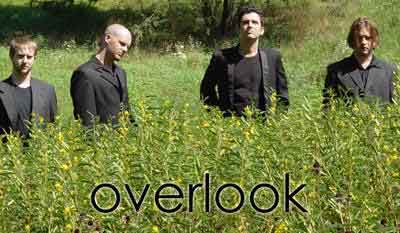 Overlook
Philadelphia, PA
www.overlookband.com
Rarely do I get the chance to see a band that I review perform live. Lucky for me, and the band, I was able to make the trip down horrible I-95, through Philly's traffic and moronic drivers, to the island vista: Kahunaville. Known for its tropical theme, drink specials and booming hip hop club scene, I was quite interested in how a local band is going to perform and more importantly, where. The usual ogles my doo-doo colored car receives were averted to the modded parking lot at hand. Rims on everything imaginable, sound systems as loud as the muffled bass from the deck behind me and the bling to go with it. A picture welcoming more questions: umm this band I'm going to see is a rock band…
I walked in with my friend, being directed from many attendants that the show was inside and not on the deck (phew!). Although considering we weren't sporting the brightly colored tube tops, tiny tight skirts, giant hoop earrings and flashing lots of skin, I'm sure everyone already knew what we were planning on doing at Kahunaville.
We sat down at a table directly in front of the stage and decided to order some island drinks (to go with the theme of the night, plus they looked pretty in the pictures). Sadly, there were not many people at Kahunaville to see a local band play rock music. We got our drinks, which instead of being these really pretty fruity mixed drinks, turned out as extremely disappointing fruity goo with a test tube filled with something shoved in a clear plastic cup. Hoping that the night was going to improve, Overlook took the stage.
If you're a fan of Radiohead, Jeff Buckley, the slower Muse pieces – read on. If not, read on. Four guys, Billy Roach (vocals, guitars), Fran Camardella (guitars, synths, piano, and samples), Timmy Roach (percussion, piano) and Zac Boden (bass, vocals) began to entertain the tiny crowd that wasn't sitting at the bar, fixated on the baseball game on television. Before the show had even started, I had already assumed that rock music was not exactly the music of choice by patrons of Kahunaville. However, I do know that they are beginning to support local artists and will have more of these types of shows in the future. That being said, Overlook was clearly one of the first of this new trend.
Regardless of the lack of crowd enthusiasm, the boys put on a spectacular show! It was extremely enjoyable and made my drink go down that much better. Billy's voice reminded me of many Brit rockers – minus their gnarly accents – but able to serenade beautifully nonetheless. Their set list, which is available on one of their many websites linked from their main website www.Overlookband.com, I thought, was constructed very well. Each song built into another and just when you thought everything started to mesh together, they threw in a song in 3/4 count, "Illusionist." In my humble opinion, some of the best songs were written in 3/4 count: Elliot Smith's Waltz #2, Jeff Bucky's Grace, Nick Drake wrote too many to list, and Alanis Morisette's So Pure to name a few. Shut up, Alanis wrote and still writes good music. "Illusionist" really got me more interested in what was to come, which surprised me, because I already loved the fact that I was seeing a "Brit Rock" band at not nearly the price of Brit Rock tickets… and in Delaware.
Anyway, the guys of Overlook really knew how to collaborate. Seeing as how they have been together since October 2003, it proved my assumption that they have been playing together for a while. They derived their band name from the area that they grew up in: Billy, Timmy and Fran are all from a suburb of Philadelphia called Overlook Hills and attended Overlook Elementary together. Billy and Timmy are brothers and started playing together in their basement. Although the Roach brothers knew Fran growing up, both he and Zac later joined the band by answering an ad.
When I first read the description of their music it said "Brit Rock from Philadelphia." Imagine: British rock… from the states. Yes, I agreed that this was impossible. However, after seeing their live show, that really is an excellent depiction of their music. The band members describe their music as "Abstract; hopefully evoking emotion." Well, I certainly smiled quite a few times in enjoyment, hope that counts. While they might not have the epileptic light parades that of Radiohead, Muse and Coldplay, they certainly have the full bodied power of the British influences. I'd definitely recommend seeing these guys in the flesh. Check out a few of their tunes on their website www.Overlookband.com before you go too so you aren't lost. And make sure you see them at a venue that is more geared towards not only local music, but live music in general and then you can worry about the format. Then, buy yourself a beer and not tropical fruit goo, and smile as you enjoy the flavor of England right in your own backyard.