Llewellyn – Indie Artist Profile
April 22, 2007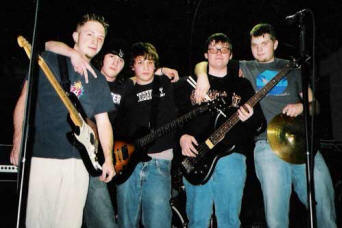 Location: York

Genre: "Early-to-Mid-90's Pop Punk Revival"

Members: Max Hess – Left-handed Lead Guitars, Chad Childers – Vocals, Jon Smith – Right-handed Lead Guitars, Spence – Bass, and Blain Herman – Drums

Started: March 2004
Influences: Strung Out, Lagwagon, and Pulley. As for vocal influence, Chad is into such groups as Allister, Punchline, Staring Back, and other Drive-Thru Records type of bands. We consider our sound kind of a Fat Wreck Chords meets Drive Thru Records type of deal
Available Online: 'Nevermind' and 'Seasons'

Website: www.llewellynrock.com

Comments: It seems that I picked a lot of "fun" artists for March. And, well, these guys are no exception! They're a young band out of York, but they've got a nice sound, good attitudes and plenty of potential! Definitely take time to check out their track "Nevermind" on their site, their Purevolume site, or their MySpace site.
by Jennifer Mattern
---
This article was written by Jennifer Mattern, founder and Editor of AudioXposure.com. To learn more about Jenn, please visit
JH Mattern Communications
.
Contact Jenn.
Comments