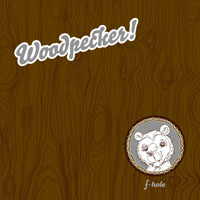 Artist Name: Woodpecker!
Album Title: f-hole
Release Date: 2008
Genre: Americana
Location: Brooklyn, NY
Label: Self-released
Band Members: Jordan Anderson: banjo, vocals; Al Huang: mandolin, vocals; Josh Steinbauer guitar, vocals; Andy Zue: cello; Michelle Vu: fiddle, upright; Bill Mayo: percussion
Website: http://www.woodpeckermusic.com
At first, it's difficult to reconcile Woodpecker!'s traditional sound with its distinctly modern lyrical approach. If you didn't listen all that closely to the words, you might take f-hole to be just another Americana CD, with plenty of requisite mandolin, banjo, and other acoustically stringed things. But "8 Miles & 2.5 Inches" begins with the line, "Thank God for Eminem," which may be the first and last time a bluegrass song ever name-dropped that famous white rapper. Furthermore, the song goes on to praise Eminem's music and also stick up – so to speak — for small penises. Once again, in case you didn't already notice, this is not your father's roots music.
How this band can be so traditionally minded musically, yet ghetto hip lyrically, is hard to comprehend. To prove "8 Miles & 2.5 Inches" is not a mere anomaly, however, another one titled "Ass Plague" states, "I'm as nice as I know how to be/To you bitches," over a folk-y, acoustic guitar groove. Potty-mouth lyrics are more rule than exception.
I should add that the traditional music played throughout this work is no gimmick. These musicians consistently apply spot-on arrangements to these original songs. Much care also went into the artwork for f-hole, with its wood grain design, framed color photographs, and lyric booklet. The band also seems to have some sort of Flaming Lips fetish, which is suggested by their decision to only be photographed in animal costumes, thus avoiding visual identification.
Had Eminem been raised in the mountains of Virginia, I wonder if he'd have sounded like this group.
Track Listing:
1. Fullerton
2. Spark
3. 8 Miles & 2.5 inches
4. One Penny
5. Ass Plague
6. How Perfect
7. Earwax
8. Nothing Gets Chicks Hot Like A Guy Who Cares A Lot
9. Monkato
10. Rocks
11. Weighless
12. So You're The Guy Who's Going To Mary My Ex-girlfriend
13. Tall Buildings
To check out more about a Woodpecker!, please visit http://www.woodpeckermusic.com.
---