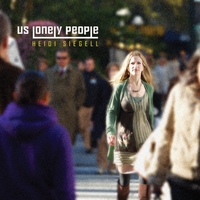 Artist Name: Heidi Siegell
Album Title: Us Lonely People
Release Date: 2008
Genre: Pop
Location: New York
Label: Self-Released
Band Members: Heidi Siegell: vocals, piano, trombone, and programmed virtual harp, er-hu, strings, brass, etc.; Rolando Gori: piano, guitar, pads and programmed virtual bass, drums, percussion, etc.; Mustafa Ahmad: percussion on "She Smiles" and "When Will Springtime Come, Maggie?"; Dana Lyn: fiddle on "Katy"' Orlando Rodriguez Powers: "all male vocals" on "Us Lonely People"; Michael Siegell: saxophone on "She Smiles" and "Fear"
Website: http://www.musa212.com/hi_d/home.htm
Heidi Siegell draws comparisons to artists like Tori Amos and Kate Bush. But these names come to mind more for Siegell's confrontational approach, rather than her musical style. It's been famously said that there's nothing to fear but fear itself, and that emotion is faced head-on with the aptly titled track, "Fear". With this particular one, Siegell takes on fear as though it were a living, breathing being. The song also sports a wailing saxophone solo from Michael Siegell. Michael Siegell's saxophone also appears on another track called "She Smiles."
Siegell's music might make you think of Rickie Lee Jones, due to the rambling, beatnik poetic way she navigates through her songs. With "She Smiles", for instance, she seems to be in no hurry to get to the song's end. Instead, it's as though she's thinking out loud – only you could say she's singing out loud. But in contrast to Jones, Siegell emotes with a pure and steady pop voice, unlike the jazzier, hipster tone of Rickie Lee.
At the risk of reading too much into Siegell's lyrics, it appears as though Siegell creates much of her music for the benefit of other women. Many of these tracks feature women's names, such as "Katy", "Mary Go Round", and "When Will Springtime Come, Maggie?" Then again, "Welcome Prayer" may well be intended for a newborn baby.
Amos and Bush can come off as angry young women – well, they were at least young once. But Siegell is confrontational, without acting out angrily, if that makes any sense. Us Lonely People is a lot of things, but easy listening isn't one of its primary characteristics. Siegell may be a complicated woman, but she's without a doubt worth getting to know better.
Track Listing:
1 Welcome Prayer
2 Happiness Is Here
3 She Smiles
4 Us Lonely People
5 Masterpiece
6 Fear
7 Katy
8 My Dear Friend
9 Mary Go Round
10 Happiness is Here (Reprise)
11 When Will Springtime Come, Maggie?
12 The Way
13 My Wish For You
To check out more about a Heidi Siegell, please visit http://www.musa212.com/hi_d/home.htm.
---