Dawn Canon on USB Music Distribution
November 3, 2009
Are your CD sales sluggish? Are you down with digital distribution channels like iTunes, but you want to complement it with something a bit more creative — actually putting something in the hands of your fans? If so, Pittsburgh band Dawn Canon might have an option: USB music distribution. Read more
Jay T Vonada Quartet: Jammin'
August 3, 2009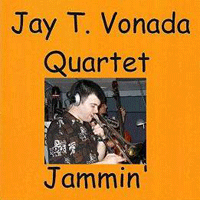 Artist Name: Jay T. Vonada Quartet
Album Title: Jammin'
Release Date: 2008
Genre: Jazz
Location: Pennsylvania
Label: Self-released
Band Members: Jay T. Vonada (trombone), Adam Kurland (keyboards), Jacob Hibel (bass), John Sullivan (drums)
Website: http://www.myspace.com/jjazzbone
Jammin' By Jay T. Vonada Quartet is one classy jazz collection. Vonada wrote and arranged all eight of these compositions, and also lays down mean trombone on it. But most important of all, it's a whole lot of fun. Read more
Michael Miller: I Made You Up
April 19, 2009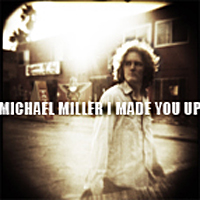 Artist Name: Michael Miller
Album Title: I Made You Up
Release Date: June 16, 2009
Genre: Rock
Location: California
Label: Self-released
Band Members: Michael Miller (guitar, vocals)
Website: www.MichaelMillerCrusade.com
Michael Miller's music is pretty, and sometimes slightly melancholy. I Made You Up is made up of ten moody songs, which are colored with Eric Heywood's prominent pedal steel work, even though country is the last label you'd slap on this collection. Instead, tracks like "Carolina Skyline" give it more of a life-out-in-the-country feel. Read more
Woodpecker – f-hole
March 12, 2009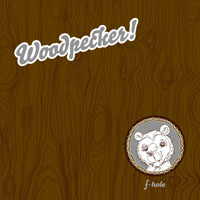 Artist Name: Woodpecker!
Album Title: f-hole
Release Date: 2008
Genre: Americana
Location: Brooklyn, NY
Label: Self-released
Band Members: Jordan Anderson: banjo, vocals; Al Huang: mandolin, vocals; Josh Steinbauer guitar, vocals; Andy Zue: cello; Michelle Vu: fiddle, upright; Bill Mayo: percussion
Website: http://www.woodpeckermusic.com
At first, it's difficult to reconcile Woodpecker!'s traditional sound with its distinctly modern lyrical approach. If you didn't listen all that closely to the words, you might take f-hole to be just another Americana CD, with plenty of requisite mandolin, banjo, and other acoustically stringed things. But "8 Miles & 2.5 Inches" begins with the line, "Thank God for Eminem," which may be the first and last time a bluegrass song ever name-dropped that famous white rapper. Furthermore, the song goes on to praise Eminem's music and also stick up – so to speak — for small penises. Once again, in case you didn't already notice, this is not your father's roots music. Read more
Who Controls Your Online Music Sales? Thanks to DirectStereo.com YOU DO!
March 12, 2009
Sure, you probably sell your music digitially on iTunes or Amazon (or both). But do either really give you enough control? Wouldn't you like a little more flexibility in setting your MP3 prices? Wouldn't like a bigger cut of the sale? How about widgets that let you easily sell your music on any website, blog, or service were you can embed the code?
Interested?
If so, you may want to check out a new service from DirectStereo.com, offering independent musicians greater control and greater payouts than other digital music sales platforms.
Here's the gist:
Registration is free.
You obviously keep full ownership of your music.
You get to keep up to 70% of the revenue for each sale.
You can setup a blog or get an artist page with a unique URL.
You can earn credits by rating tracks from other artists.
People can comment on tracks in the system.
You can access simple widgets to copy and paste your music downloads for sale on your band site, blog, myspace profile, and more (on a side note, they're working on a more advanced widget).
Everything can be operated from a simple control panel where all options are available on every page (shown below).
So what does DirectStereo.com offer that other digital music distribution services don't? More flexibility and higher payouts (and since you can add a widget just about anywhere your fans hang out online, its reach is as broad as your own).
For example, you're not forced to charge $.99 per track. Let's say you have older albums and you'd like to charge less. You can. Or what if you want to charge more than usual for an album pre-launch before it officially drops? You can do that too. And you can change any prices you set each month. Here are the available pricing options for single tracks and albums:
Single Tracks:
$.25
$.50
$.75
$1.00
$1.25
Albums (min. 4 tracks):
$.99
$1.49
$1.99
$2.49
$2.99
$3.99
$4.99
$5.99
$6.99
$7.99
$8.99
$9.99
When you're ready to promote your tracks, here's an example of the widget you can add to your websites, blogs, and profiles:
Looking to get your music on iTunes, but you don't have the required distributor and UPC code? Then keep and eye on DirectStereo.com, because in the future they'll also be helping musicians get their tracks on iTunes and other online stores acting in a distributor capacity.  Also still to come:
The advanced widget
Fully customizable personal / artist pages with the option to import your current Myspace layout (for branding consistency)
A mobile version of the site, featuring iPhone and Android apps
The ability for users to keep their download list online to create their own playlists and access their purchased tunes from any computer with Internet access
So is there any downside? Perhaps a small one for some artists.
When you upload individual tracks to sell, you're required to offer them for free for two weeks before setting your prices (and with albums you have to make two tracks from the album available). Now if you're already doing this temporarily through your Myspace page or official site, it shouldn't be a big deal (and personally I'm a big believer in artists leveraging occasional free music against better monetization options – a topic for another day). But if it really bothers you, and that policy doesn't change in the future, you can always upload them and simply not promote them there until the two weeks have passed.
Other than that, if anyone takes them for a test drive, I hope you'll stop by here and leave a comment on this post to share your experience with other artists.
Heidi Siegell: Us Lonely People
March 2, 2009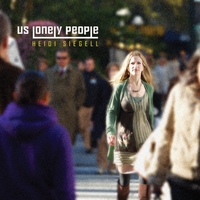 Artist Name: Heidi Siegell
Album Title: Us Lonely People
Release Date: 2008
Genre: Pop
Location: New York
Label: Self-Released
Band Members: Heidi Siegell: vocals, piano, trombone, and programmed virtual harp, er-hu, strings, brass, etc.; Rolando Gori: piano, guitar, pads and programmed virtual bass, drums, percussion, etc.; Mustafa Ahmad: percussion on "She Smiles" and "When Will Springtime Come, Maggie?"; Dana Lyn: fiddle on "Katy"' Orlando Rodriguez Powers: "all male vocals" on "Us Lonely People"; Michael Siegell: saxophone on "She Smiles" and "Fear"
Website: http://www.musa212.com/hi_d/home.htm
Heidi Siegell draws comparisons to artists like Tori Amos and Kate Bush. But these names come to mind more for Siegell's confrontational approach, rather than her musical style. It's been famously said that there's nothing to fear but fear itself, and that emotion is faced head-on with the aptly titled track, "Fear". With this particular one, Siegell takes on fear as though it were a living, breathing being. The song also sports a wailing saxophone solo from Michael Siegell. Michael Siegell's saxophone also appears on another track called "She Smiles." Read more
The Shake Ups – Breathing the Flood
December 29, 2008
Artist Name: The Shake Ups
Album Title: Breathing the Flood
Release Date: 2008
Genre: Rock
Location: San Diego, CA
Label: Gelatinous Productions
Band Members: Patrick O'Connor – lead and backing vocals, electric and acoustic guitars, percussion; Eve Gross – lead and backing vocals, keyboards, glockenspiel; Albert Lu – bass guitar, percussion; Kathie O'Connor – drums and percussion.
Website: www.TheShakeUps.net
Perhaps nobody loves power-pop music more than me. So when The Shake Ups mention influences like The Shins, The New Pornographers, and The Apples In Stereo, my appetite is immediately whetted. Nearly any combination of choppy guitars and sing-able melodies will turn my head in that favorite sound's general direction. Unfortunately, Breathing the Flood is not exactly what a diehard power-pop aficionado usually bargains for. Instead, this CD has all the right elements; but somehow these weren't mixed together correctly. Read more
Wendy Darling – Half-Told Bedtime Stories
December 15, 2008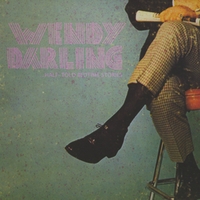 Artist Name: Wendy Darling
Album Title: Half-Told Bedtime Stories
Release Date: 2008
Genre: Folk-Rock
Location: San Diego, CA
Label: Easta Green Music
Band Members: Vocals – Cori Rush; Guitar/back-up Vocals – Nate Heller; Bass – Jon Freeman; Drums – Hector Verdugo
Website: WendyDarlingBand.com
Wendy Darling is named after the female protagonist in Peter Pan. You know, the girl that didn't want to grow up. But this San Diego band, fronted by Cori Rush's authoritative vocals, is clearly comprised of worldly-wise grownups. Read more
Revolution, I Love You – Noise. Pop. Deathray.
December 8, 2008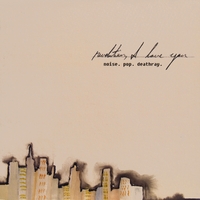 Artist Name: Revolution, I Love You
Album Title: Noise. Pop. Deathray.
Release Date: 2008
Genre: Rock
Location: Delaware
Label: Self-released
Band Members: Jason Reynolds and Rob Lindgren
Website: www.RevolutionILoveYou.com
Jason Reynolds and Rob Lindgren, a duo called Revolution, I Love You, refer to their music as "equal parts drum machines and Fender jangle, fuzz bass and piano." And dang, if they're not absolutely right! This music may be relatively indescribable, but that doesn't mean it's not also mighty fine. Noise. Pop. Deathray. is comprised of only six tracks, yet each one is entirely different from the rest. Revolution, I Love You's overall affect might just restore your faith in rock & roll. Read more
The Roseline – Lust for Luster
December 1, 2008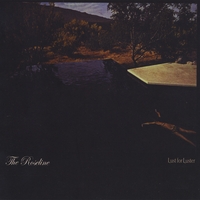 Artist Name: The Roseline
Album Title: Lust for Luster
Release Date: 2008
Genre: Alt.country
Location: Lawrence, Kansas
Label: Self-released
Band Members: Colin Haliburton, vocals and guitar; Ehren Starks, keyboards; Jenny Davidson, bass; Jeff Jackson, guitar and pedal steel; and James Storms Piller, drums.
Website: http://www.myspace.com/colinpepper
The band The Jayhawks was from Minnesota, while the University of Kansas mascot is a Jayhawk. But The Roseline unites these disparate points of separation by combining Jayhawks-inspired music with geographic Kansas roots. The Roseline's Lust for Luster can be loosely categorized alt.country music, primarily because of Jeff Jackson's inspired pedal steel work, which gives even the group's rocking-ist moments a sincere touch of twang. Read more