The Roseline – Lust for Luster
December 1, 2008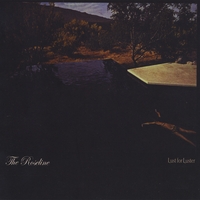 Artist Name: The Roseline
Album Title: Lust for Luster
Release Date: 2008
Genre: Alt.country
Location: Lawrence, Kansas
Label: Self-released
Band Members: Colin Haliburton, vocals and guitar; Ehren Starks, keyboards; Jenny Davidson, bass; Jeff Jackson, guitar and pedal steel; and James Storms Piller, drums.
Website: http://www.myspace.com/colinpepper
The band The Jayhawks was from Minnesota, while the University of Kansas mascot is a Jayhawk. But The Roseline unites these disparate points of separation by combining Jayhawks-inspired music with geographic Kansas roots. The Roseline's Lust for Luster can be loosely categorized alt.country music, primarily because of Jeff Jackson's inspired pedal steel work, which gives even the group's rocking-ist moments a sincere touch of twang. Read more
Stealing Jane – Does Size Matter?
August 11, 2008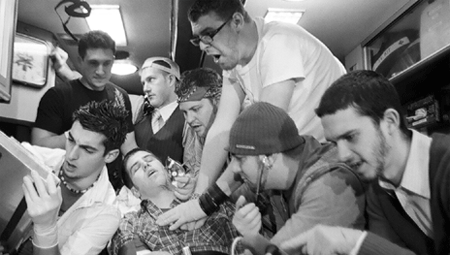 What does an 8-man band like NY's Stealing Jane have that others don't? My initial reaction was that there's an obvious benefit for an indie band sans label with so many members – they can all help foot the bill, whether that be for studio time, touring costs, or promotion.
Then I thought, hey, I've seen bands half that size split up because there were just "too many cooks in the kitchen" – they just couldn't get along when it came to dealing with constant creative and business decisions. Read more
Fiance on Band Self-Management
August 7, 2008
As an indie band, should you bring on a band manager to handle your business affairs, or does it make more sense to handle things like promotion, bookings, and recording by yourselves? I talked to Colorado-based Fiancé about their decision to self-manage their band's business, and whether or not it's really important to have skills beyond making music to be a successful independent band. Read more
Fan-Sponsored Music: Two Perspectives
July 9, 2008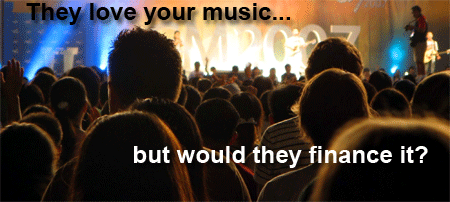 Fan-sponsored music sounds like a great concept, doesn't it? Thanks to sites like SellaBand and SliceThePie, fans have the opportunity to invest in a band or solo artist, financing the artist's album (for a cut of the profits – they can even buy and sell their "shares" in a sort of stock market environment). The artist doesn't have to give up rights to their work or deal with a label calling the shots. Sound like heaven?
I'm not knocking fan-sponsored music. I think it's a fascinating evolution in the music industry, and imagine the concept's going to continue to grow rather than disappear in the foreseeable future. But is a fan-sponsored album right for you? Read more