Dawn Canon on USB Music Distribution
November 3, 2009
Are your CD sales sluggish? Are you down with digital distribution channels like iTunes, but you want to complement it with something a bit more creative — actually putting something in the hands of your fans? If so, Pittsburgh band Dawn Canon might have an option: USB music distribution. Read more
Stealing Jane – Does Size Matter?
August 11, 2008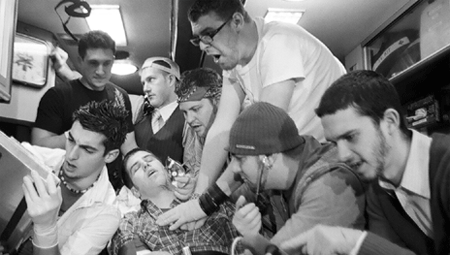 What does an 8-man band like NY's Stealing Jane have that others don't? My initial reaction was that there's an obvious benefit for an indie band sans label with so many members – they can all help foot the bill, whether that be for studio time, touring costs, or promotion.
Then I thought, hey, I've seen bands half that size split up because there were just "too many cooks in the kitchen" – they just couldn't get along when it came to dealing with constant creative and business decisions. Read more
Fiance on Band Self-Management
August 7, 2008
As an indie band, should you bring on a band manager to handle your business affairs, or does it make more sense to handle things like promotion, bookings, and recording by yourselves? I talked to Colorado-based Fiancé about their decision to self-manage their band's business, and whether or not it's really important to have skills beyond making music to be a successful independent band. Read more
Ajax Garcia on Proactive PR
January 10, 2008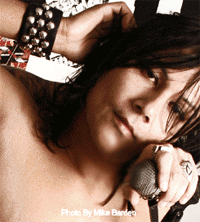 Do you know what I love about The Napoleon Blownaparts' frontman, Ajax Garcia? He knows how to take action when it comes to artist PR. He doesn't simply follow the crowds… he leads them.
Indie bands across the globe make an incredibly common mistake when promoting their music – they do what everyone else does.
Is it going to hurt your band to have a Myspace profile? No. Is it going to hurt your album if you have it on iTunes? Of course not. Is it a good idea to have your own website? Damn straight. But what else are you doing as a band or indie musician to set yourself apart? Chances are… not much. Read more
Wayne Hsu – Indie Artist Feature
April 22, 2007
Wayne Hsu
Philadelphia, PA
www.waynehsu.com
Wayne Hsu is a singer/songwriter, originally from Kaohsiung, Taiwan, and now living in Philadelphia. He describes his music as "smooth, jazzy, mellow, and lougetastic," pulling influences from "everyone from Burt Bacharach to Phish."
Wayne was brought into music a little bit later than most artists, when he started playing the drums in his high school jazz band at the age of 15. Only about a year ago did he start performing in public, singing and playing guitar at open mics throughout Philly, and it was these perhaps late-blooming performances that solidified his interest in working as a musician. Read more
The Twilight Collective – Indie Band Update 2006
April 22, 2007
The Twilight Collective
Philadelphia, PA
www.thetwilightcollective.com
Since our original interview with, and feature of, PA and DE's The Twilight Collective, the guys have been busy.  Matt was able to fill us in on some of the details:
A few months back, Mark, Matt, Phil, Doug, and Harry signed to Textbook Music.
They're devoting themselves full-time to their music now, plan to start recording soon, and will be touring again starting this January.  As a matter of fact, they've got a few "local" shows (PA, NJ, and DE) in mid-late January, so be sure to check them out live if you haven't had the chance yet.  Check out the band's show listings here. Read more
The Twilight Collective – Tour Journal
April 22, 2007
Date: Wednesday, February 9
Place: Butler, PA
Written By: Matt
Ah, day one of tour. We woke up bright and early, threw a mattress into the bus, and grabbed some coffee at Dunkin' Donuts. We headed to Lancaster to pick up Mark, which was about an hour from Doug's. Since he has very recently moved back home with his parents, I had the occasion to meet them for the first time, despite the fact that Mark and I have been close friends for about four years. They seemed nice, and we talked for a bit. Read more
The Twilight Collective – Chat Transcript
April 22, 2007
Here's a chat transcript (or what I could salvage from it) that I was able to put together after a chat room "interview" with the TTC boys. But first, some quick introductions: Jenn = (AX Editor), The boys are as follows: Mark (vocalist), Matt (guitar), Phil (guitar), Doug (bass) and Harry (drums). Read more
The Twilight Collective – Indie Band Feature
April 22, 2007
The Twilight Collective
Philadelphia, PA
www.thetwilightcollective.com
Once in a while you'll hear a musician or a band, and they'll just blow you away. You may not even realize why. They'll just exercise some sort of control over your senses that you can't explain. They probably won't sound completely different than anything you've heard before. Let's face it, none of them do. Everything in music has been done before, at least to some degree. But it's the act of trying again until someone really gets it right that can make the difference. Read more
The Twilight Collective – Indie Band Profile
April 22, 2007
Location: Philadelphia
Genre: "Energetic Rock"
Members: Phil Bryer (Guitar), Matt Canning (Guitar, some vocals), Doug Davisson (Bass, some vocals), Harry Mazzio (Drums, some vocals), and Mark Mongiovi (Vocals) Read more