A 750ml Affair – A 750ml Affair
November 16, 2008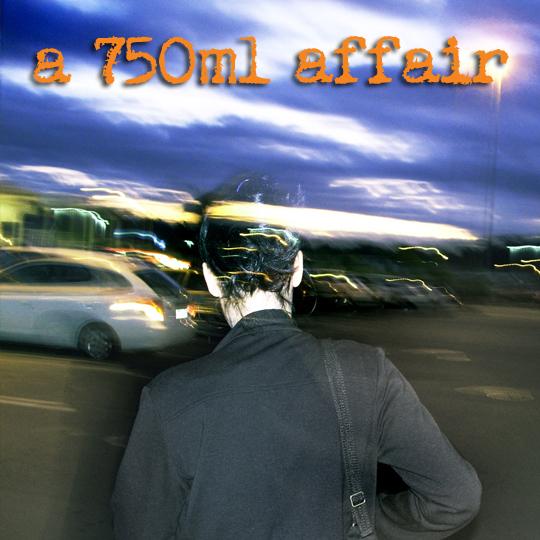 Artist Name: A 750ml Affair
Album Title: A 750ml Affair
Release Date: 2007
Genre: Rock
Location: Spokane, WA
Label: Kettle Black Records
Band Members: Gregory A. Rogers
Website: www.A750mlAffair.com
The very moment Gregory A. Rogers mentions in passing how his "wife is at home awaiting the sunrise," right after lavishing sweet nothings all over Miss Sexy Target of his extramarital affair, the Afghan Whig's lecherous and spooky Greg Dulli comes immediately to mind. Simply put, Rogers is a smooth talking devil, in the sleazy Dulli mode, throughout this oftentimes troubling CD. And while his words may be appalling, he is nevertheless simultaneously quite compelling. Read more
Siggy: The Absinthe Effect
November 9, 2008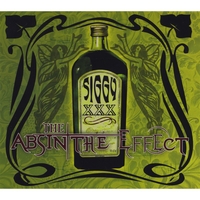 Artist Name: Siggy
Album Title: Absinthe Effect
Release Date: 2008
Genre: Rock
Location: Los Angeles, CA
Label: Shot Time Productions
Band Members: Galen Buckwalter vocals, Ryan Howes guitars, Deborah Buckwalter bass, Paul Netherton drums
Website: www.SiggyTheBand.com
Siggy's sound hearkens back to classic David Bowie '70s glam rock, especially the way vocalist Galen Buckwalter sings in a wavy, emotional manner and evidenced by how a Mick Ronson-inspired guitar lick introduces "WWGNRD?". Yet Buckwalter is by no means your typical glitter rocker. Please note that this front man is also known as Dr. Galen Buckwalter, and is a former professor at University of Southern California. Furthermore, guitarist Ryan Howes has studied clinical psychology, which gives this four-piece a brainy edge – for whatever that's worth — over much of the Los Angeles rock scene. Read more
Frank Tribes: Gallery
November 3, 2008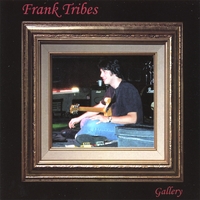 Artist: Frank Tribes
Album: Gallery
Genre: Rock
Location: Chicago, IL
Label: S.E.N. Records
Band Members: Frank Tribe (vocals, guitars, organ, and autoharp)
Website: www.FrankTribes.com
Derivative is nearly always a pejorative term. When used to describe a musical artist, it suggests a lazy performer who is unwilling or unable to sail uncharted waters. And while Frank Tribes' music is undeniably derivative, this factor only heightens the enjoyment in listening to Gallery, his third full-length release. In other words, derivativeness is a compliment in this instance. Read more
Stealing Jane – Does Size Matter?
August 11, 2008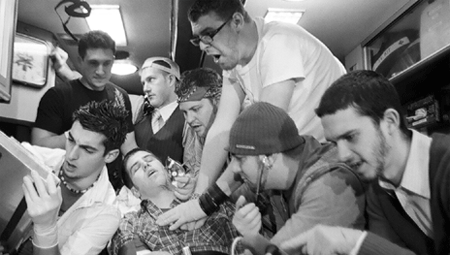 What does an 8-man band like NY's Stealing Jane have that others don't? My initial reaction was that there's an obvious benefit for an indie band sans label with so many members – they can all help foot the bill, whether that be for studio time, touring costs, or promotion.
Then I thought, hey, I've seen bands half that size split up because there were just "too many cooks in the kitchen" – they just couldn't get along when it came to dealing with constant creative and business decisions. Read more
Fiance on Band Self-Management
August 7, 2008
As an indie band, should you bring on a band manager to handle your business affairs, or does it make more sense to handle things like promotion, bookings, and recording by yourselves? I talked to Colorado-based Fiancé about their decision to self-manage their band's business, and whether or not it's really important to have skills beyond making music to be a successful independent band. Read more
Fan-Sponsored Music: Two Perspectives
July 9, 2008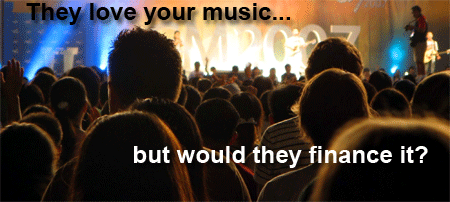 Fan-sponsored music sounds like a great concept, doesn't it? Thanks to sites like SellaBand and SliceThePie, fans have the opportunity to invest in a band or solo artist, financing the artist's album (for a cut of the profits – they can even buy and sell their "shares" in a sort of stock market environment). The artist doesn't have to give up rights to their work or deal with a label calling the shots. Sound like heaven?
I'm not knocking fan-sponsored music. I think it's a fascinating evolution in the music industry, and imagine the concept's going to continue to grow rather than disappear in the foreseeable future. But is a fan-sponsored album right for you? Read more
Social Media for Musicians
July 8, 2008
Specializing in online PR, you may think I'd tell you that you have to be everywhere and using everything when it comes to using social media to promote your music. You'd be wrong if you thought that.
Social Media Tools for Musicians
Before I get into why you shouldn't worry about trying to use every social media tool you can get your hands on, let's start by giving you some examples of social media tools for musicians:
General Social Networks – You would be hard-pressed to say any general social network is better for independent musicians than Myspace. Still, others do exist, and may be worth checking out – anything from Facebook to even LinkedIn (for those looking to connect with industry professionals, or for those working behind-the-scenes in indie music).
Music Networks – In addition to general social networks, music networks exist specializing entirely in building the band-fan relationship. Examples would be Purevolume or Unsigned.com. Read more
Do or Die: The Band-Fan Relationship
July 7, 2008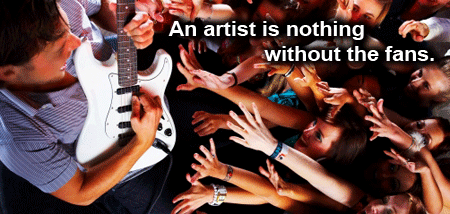 Recently on my book marketing blog, I talked about why author publicity is more important than book publicity. The same is true in music promotion – the image of the band or artist far outweighs the publicity of any specific album, song, or product, and it relies on the always-important band-fan relationship. Read more
Band Newsletters, Blogs, or Both?
June 24, 2008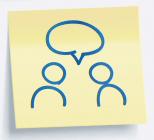 Two common music marketing tools for bands and other independent artists are blogs and newsletters. Given that their purpose is to do essentially the same thing – keep fans up-to-date on your goings on, do you really need to use both?
Unfortunately there's no simple yes-no answer here. While on the surface, they do the same thing, there's more to it. Which you use (or both) really comes down to the artist's commitment. Here's why:
Blogs are about much more than simply posting about your recording updates or about your latest show. Blogs are about engaging your audience and building relationships.
Blogs generally need to be updated often to maintain readership – you should be posting more than once a week or once per month – schedules that may be perfectly fine for newsletters (which are one-sided communication where you talk to your fans instead of talking with them). Read more
Artist Resource: Unsigned.com
June 23, 2008
Resource: www.Unsigned.com
Full Disclosure: The company running Unsigned.com is a past client of mine.
The Web gives artists and bands seemingly unlimited resources for promoting your music directly to fans. Unsigned.com is one of those resources you may want to check out.
One of the best things? Unlike sites like Myspace where the major label artists encroach on your territory, Unsigned.com is exclusively for unsigned and indie label artists. Read more